Welcome- Karibu sana Volunteer in Tanzania!!
Since 2013 Volunteer in Tanzania and Volunteer on Zanzibar have had the privilege to welcome over 500 happy volunteers in our comfortable, spacious accommodation with an African touch.

Are you interested in making the most memorable trip of your life!!

Have a look around on our website and do not hesitate to get in touch with us. With our wide offer of programs and 3 destinations in Tanzania. Supervised by our hand-picked with care team, we can ensure you that your trip will be beyond your expectations.

The Volunteer in Tanzania family exist out of…
Arusha
The Volunteer in Tanzania family exist out of a team of 9 motivated team members coming from all over Tanzania.
Our youngest team member is Prisca. Prisca is the matron, making sure your bed is fresh and clean, everyday. She has been working in our Volunteer in Tanzania team since 2013 and we are hoping we can keep her for many more years to come. Our oldest team member Moses, is the watchman. Moses might look very old, he still owns a very firm handshake and makes sure, with some help of the other guards that our volunteers are safe and sound.
Further, our team can proudly present aunti Mishi, the chef cook and Lowassa, our supervisor. Aunti Mishi prepares every morning a delicious fresh breakfast and provides the volunteers with a perfect mix and match of local Tanzanian and western meals in the evenings. Lowassa is the eyes and ears of the lodge. Picking volunteers up from the airport, introducing you to the hustle and bustle in town and at the same time making sure your home a way from home is safe and clean.
You are warmly welcome to get to know our other team members; the Swahili teacher Almasi, the accountant Brighton, gardener Samuel, and last but not least, the founders of this program Tarloch & Leonie. As a team, we have a commitment to ensure our organization runs smoothly but as a family we have a commitment to each other and to ensure the work our guests do, truly makes a difference.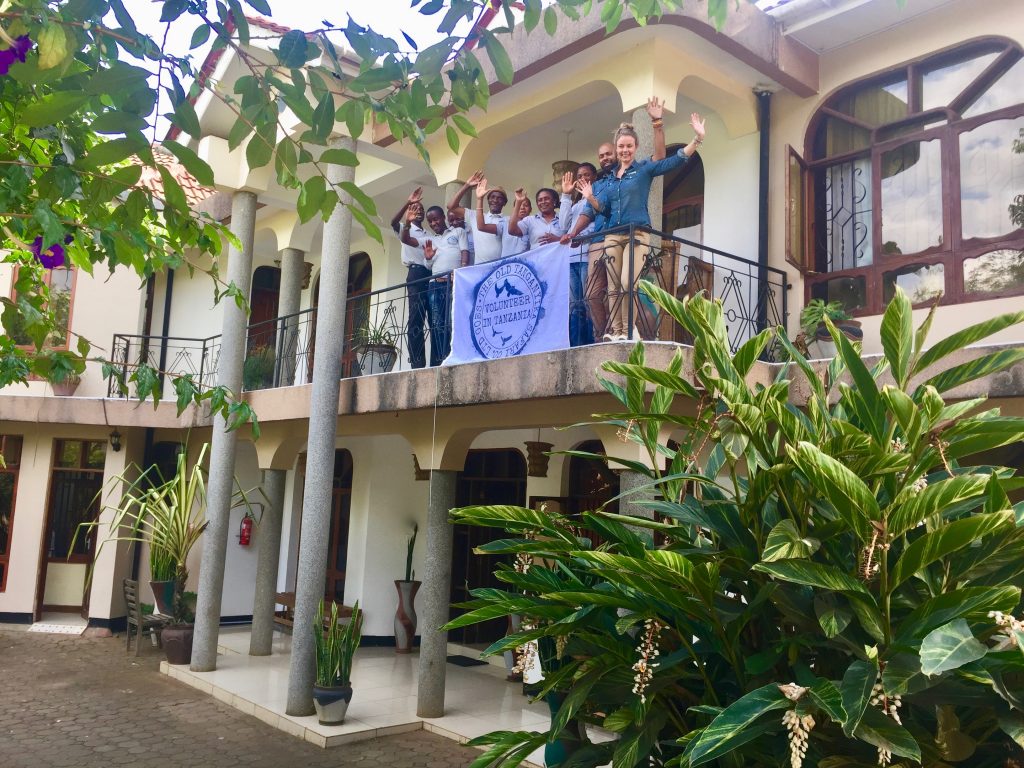 Zanzibar
 As you can see our humble team on Zanzibar only consists of 3 members. Roger, Damaris and Tarloch as the founder.
Damaris was born and raised on this beautiful Island and she has no intention to move from here. Before she started working for Volunteer on Zanzibar, she had her own Hair salon for more than 10 years. Braiding and styling hair was her job and nowadays when she has time she still likes to do it. Now she is the Matron of the volunteer house and she will take care of the house and your inner self with good food.
Roger Badi was born in Mainland Tanzania and moved to Zanzibar when he was five years. He went to school and has lived on Zanzibar ever since. Upon completing high school Roger pursued his dream to play professional football. Which he did, playing for one of the largest football clubs on Zanzibar, eventually representing his country in the National squad.
Unfortunately, he had to retire from football due to an injury. Roger started his career in the hospitality industry 8 years ago and has managed a few properties on Zanzibar. He is currently our local supervisor on Zanzibar, with his deep knowledge of the island and its people. Roger is a great asset with the deepest knowledge of the Island, culture and literally people (not kidding, he knows everyone!).