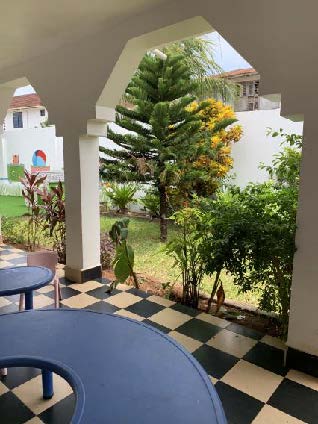 Name of the School: Kids Space
Location: Mbweni, Zanzibar
Established: August, 2022
Mission Statement: A space where kids are loved and nurtured
Overview
Kids Space School offers daycare and nursery programs for children aged 6 months to 5 years old. The school has 28 students and 6 staff members, and it follows a play-based learning approach, incorporating elements of Montessori teaching.
Grade Levels Offered at the School
The school offers grade levels such as daycare and nursery, providing educational programs tailored to different age groups.
Academic Programs
For toddlers, activities include storytelling, writing/coloring, focus play, puzzles, sports, pretend play, nature walks, baby gym, and arts and crafts. In the nursery classes, students engage in subjects like math, English, Kiswahili, science, religion, sports, and arts and crafts.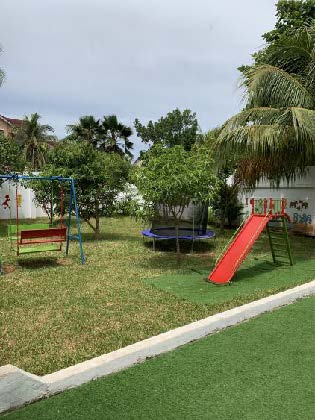 Religious Affiliation
Kids Space does not have any religious affiliation, ensuring an inclusive environment for all students.
Volunteer Supervision
Volunteers at the school will be supervised by Teacher Fauzia, who also takes care of the general welfare of students and staff. The supervisor's presence is ensured on all days of the week.
Daily Tasks
– Look after toddlers and ensure their well-being.
– Assist teachers in classroom activities.
– Accompany teachers on field trips
and provide support.
– Prepare lessons and creative activities for the next day.
– Engage children during breakfast time.
– Participate in classroom activities and facilitate learning.
– Supervise outdoor playtime for social interaction.
– Help manage the lunch break and promote hygiene.
– Assist during naptime for a comfortable environment.
– Facilitate snack time and encourage healthy eating.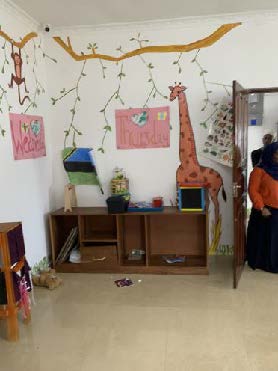 Timetable
8:00 am – 8:30 am: Arrival and Morning Preparation
8:30 am – 9:00 am: Breakfast and Social Interaction
9:00 am – 10:30 am: Classroom Activities (Math, Language, Science, etc.)
10:30 am – 11:00 am: Snack Time and Bathroom Break
11:00 am – 12:00 am: Outdoor Playtime (Story Time or Music and Movement)
12:00 pm – 12:30 pm: Lunch Time and Restroom Break
12:30 pm – 2:30 pm: Nap Time or Quiet Activities
2:30 pm – 3:00 pm: Arts and Crafts or Sensory Play
3:00 pm – 3:30 pm: Snack Time and Bathroom Break
3:30 pm – 4:00 pm: Outdoor Playtime
Participation
Volunteers participate Monday to Friday, from 8:00 am to 4:00 pm. Volunteers can participate throughout the year, excluding a two-week period in October.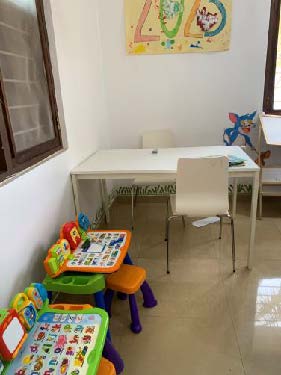 Meal Plan
Kids Space provides breakfast for the Volunteers but does not offer lunch.
Volunteer Guidelines
– Only female volunteers accepted.
– Teaching background and social care experience required.
– No visible tattoos allowed for volunteers.
– Mandatory participation in field trips.
– Inform about sickness; no volunteering with contagious diseases.
– Phones not allowed during working hours, permitted during breaks (rotational).
– No criminal record and good health required.
– LGBT issues neither tolerated nor accepted.
– Not allowed on premises or during working hours.
– Adhere to local cultural norms.
– Taking pictures not allowed.
– Limited to classroom areas.
– School not responsible for lost items.
– Strictly respect and adhere to Zanzibari culture and Laws
Duration
The minimum duration for volunteers is 4 weeks, with the maximum duration depending on the volunteer's availability and commitment.
To volunteer at Kids Space, you must be aged 16 to 35 with no criminal record. Experience in teaching or a relevant field is preferred, and knowledge of social media is advantageous. Labor and volunteer permits are required.
Holidays
The school is closed during Eid and last week of December. These dates are subject to change by the government.
Distance
The distance between the lodging and the school is approximately 600 meters, which can be covered in a 3-minute car ride or a 7-minute walk.
Transportation
Boda boda, a local transportation option, is available at a cost of around 1,000 to 2,000 TZS.
Desired Goals and Priorities
In terms of desired goals and priorities for growth and development, Kids Space aims to continue nurturing and raising future leaders by providing a safe and loving environment that allows children to thrive and reach their maximum potential. The organization values innovation, creativity, and inclusivity in education, seeking volunteers who share these goals and can contribute to the growth and development of the school.
Additional Information
The school is open to volunteers who have experience with children with special needs, as Kids Space focus on inclusive education. Volunteers are encouraged to think outside of the box and come up with creative ideas for activities such as a robotic day or little chef sessions.